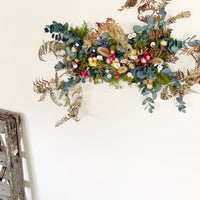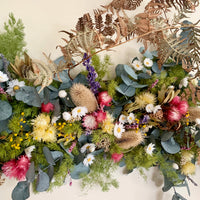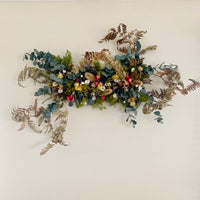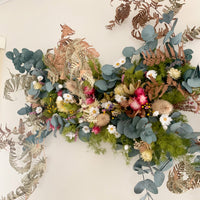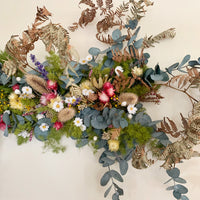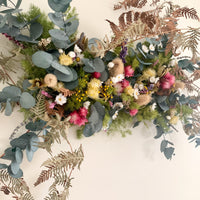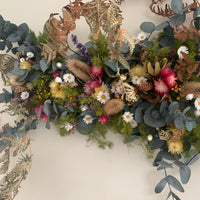 Pickup only | Bird's Forest [XL] preserved and dried flowers wall hanging / arbour / table centre
Description
Please note : Large items are available for pickup only ( in Mckinnon 3204). 

This artisan extra large wall hanging bringing you a welcoming natural feeling to your home, she can create happy moments as an arbour on your special day or she can even be a beautiful table centre piece. 
We carefully pick longer lasting preserved and dried flowers and foliage for you to enjoy her years to come.
She expresses atmosphere of a beautiful forest. You may hear little birds are singing every morning.

Size approx.
Extra Large - Length to tip  : 120cm  x 73cm ( main part measurement approx.: 60cm x 30cm)

Design
Front facing Preserved & Dried Flowers Wall / Arbour Arrangement

Preserved
Aster, Eucalyptus, Rice flower, Ming fern etc.
Dried
Daisy, Thistle, Lavender, Delphinium etc.
Delivery | pickup
This item accepts " PICKUP " in Mckinnon ONLY.
We are sorry, we can't post this item.

We will contact you individually for pickup arrangement.

Fee
● FREE Pick-up in Mckinnon VIC
message | gift wrap
Wrapping
We try our best to wrap ALL our flowers as gifts with suitable wrapping paper and ribbon. But we may not be able to wrap this perfectly because of the size of this item. The item will be partially boxed for you to take home safely by car.

Message
We offer a beautiful matching flower gift card here with extra cost.
Or we are happy to include a free small card for your short message. Please put your message on comment.
Delivery / Pickup Packaging
We promise to pack them in the best way for safety arrival. Most of flowers will be tightly fixed on delivery boxes.
more information here
Life Span
All our Preserved and Dried Flowers are made from 100% real natural flowers and they can smile to you for a long time.
Generally speaking, their life is around 1 to 5 years depending on environmental condition and how individual think.
Preserved and Dried Flowers won't die. But they can slowly age / fade, just like any other home decor. They normally keep their perfect look for months, and are still as beautiful a year or two. We still enjoy our 8 years old preserved flower arrangement as we still love their slightly fade look, but some may think they are end of life. We think their life span rely on individual preferability.

Preserved small flowers and foliage ( like hydrangeas, baby breath, limonium etc.) and Dried Flowers are longer lasting / stronger flowers in our shop.
more information and facts here
flower substitution | stems
Every bouquet / arrangement is made by hand especially for you. They are natural product, only one and nothing can be exactly the same. We promise to keep the style of bouquet as close as possible with the sample photos, but variety of flowers / foliage may be slightly change without notice depending on seasonal availability. We may replace to the same or greater value of flowers.
We always try our best to maximise the beauty of each flowers. We may use wooden / wire stems to extend or give it flexibility if that is the best result for the flowers.
custom order request
We are happy to create custom bouquets / arrangements for you.

Most of our custom orders with stocked flowers / vase ( up to $300 ) can finalise in 3 working days.
* large product / large amount of flowers for events require at least 8 weeks in advance or earlier depending on flower stock and our availability.
We try our best to suit your schedule. Please chat / email us if your favourite is out of stock, or you can't find the best piece. We will try our best to create designs to suit you.
* your preferred colors, budget and sample photo will be helpful.
more information here