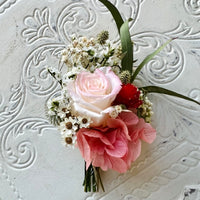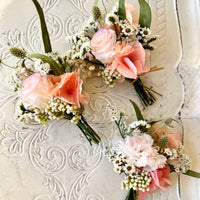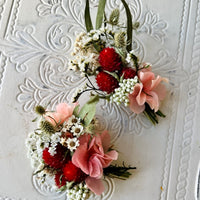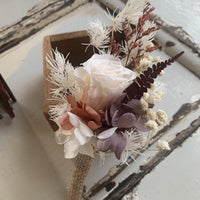 Preserved and Dried Flower Buttonhole | Boutonnière
Description
This is Make to Order Item. Please contact us for more detail.

Design
individual design or matching design with wedding bouquet wrapped with ribbon. Created with Preserved and Dried Flowers

Guideline
Single Buttonhole
Price from $34.95, small buttonhole for parents / boys from $32.95
Buttonhole match with a bouquet / corsages
Special Price from $29.95 small Buttonhole  for parents / boys from $27.95
Delivery | pickup for Special Custom Orders
Processing time
3 working days for most of custom special orders (up to $300 / 3 small items in total with stocked flowers / vase)
* large product / large amount of flowers for events require at least 8 weeks in advance or earlier depending on flower stock and our availability. We try our best to suit your schedule.

We deliver to all postcode in VIC, NSW, QLD, SA and ACT. ( Sorry, not to WA, TAS or NT)
Dispatch
Orders by 20:00 on weekdays will be dispatched on next day / ready for pick up after 15:00 on next day
* we may dispatch the order earlier if possible
Fee
● Standard ( approx. 3-6 business days)
Flat rate $10 / Free over $180
 * Tracking, Signature on delivery
● Express Post ( approx. 1-3 business days)
Flat rate $13 / $3 over $180
* Tracking, Signature on delivery
● FREE Local Pick-up
McKinnon News Agency
163 Mckinnon Rd, Mckinnon VIC
Mon. Tue. Wed. Thurs. Sat. - 8:00-18:30 / Fri. - 8:00-17:30 (*close on Sundays and public holidays)
● Local Courier
up to 30km from Mckinnon
Monday - Saturday
(NO Sunday / Public holiday Delivery)
* please specify your preferred date
*up to 5km : $10 or Free for orders over $180     
 *5 - 9.99km : $15 or $5 for orders over $180
 *10 - 19.99km : $19 or $9 for orders over $180
*20 - 29.99km : $23 or $13 for orders over $150

Please check here for more detail
wrapping | message
Wrapping
We wrap ALL our flowers as gifts with suitable wrapping paper and ribbon. * contact us for a gift box
Message
We offer a matching flower gift card here with extra cost.
Or we are happy to include a free small card for your short message. Please put your message on comment.
Delivery / Pickup Packaging
We promise to pack them in the best way for safety arrival. Most of flowers will be tightly fixed on delivery boxes.
Life Span
All our Preserved and Dried Flowers are made from 100% real natural flowers and they can smile to you for a long time.
Generally speaking, their life is around 1 to 5 years depending on environmental condition and how individual think.
Preserved and Dried Flowers won't die. But they can slowly age / fade, just like any other home decor. They normally keep their perfect look for months, and are still as beautiful a year or two. We still enjoy our 8 years old preserved flower arrangement as we still love their slightly fade look, but some may think they are end of life. We think their life span rely on individual preferability.

Preserved small flowers and foliage ( like hydrangeas, baby breath, limonium etc.) and Dried Flowers are longer lasting / stronger flowers in our shop.
more information and facts HERE
finalising your custom order
Every bouquet / arrangement is made by hand especially for you. They are only one and nothing can be exactly the same.
We promise to do our best to create your flowers with your preferred style as we discussed. We will use your flowers mainly and add variety of flowers / foliage which we think that suit yours.
We always try our best to maximise the beauty of each flowers. We may use wooden / wire stems to extend or give it flexibility if that is the best result for the flowers.
We will send you photos when we complete your flowers before dispatch.
We are looking forward to bring smiles to you.
Custom Request
* Sorry, we might not be able to take custom orders during peak season when we notice on top page.
-------------------------

We are happy to create custom bouquets / arrangements for you.

Most of our custom orders with stocked flowers / vase ( up to $300 ) can finalise in 3 working days.
* large product / large amount of flowers for events require at least 8 weeks in advance or earlier depending on flower stock and our availability.
We try our best to suit your schedule.Please chat / email us if your favourite is out of stock, or you can't find the best piece. We will try our best to create designs to suit you.
* your preferred colours, budget and sample photo will be helpful.

more information here